Middletown wrapped up a perfect Section 9 season with a convincing 75-50 win over Valley Central in the Class AA championship at SUNY Orange on Saturday in front of about 2,000 fans.
Valley Central, seeking its first sectional title in 36 years, actually led 16-11 after the first quarter. From there, Middletown overwhelmed the second-seeded Vikings with its depth, athleticism and pressure. Middletown scored the first 11 points of the second quarter and led 33-23 at halftime. The Middies were up 51-37 after three quarters.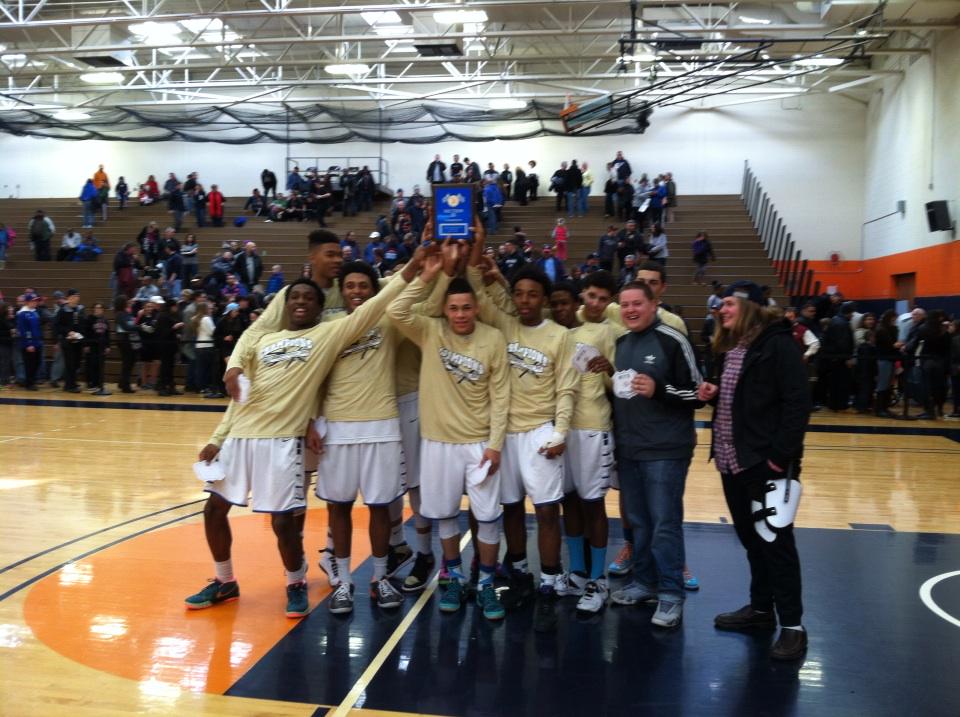 Middletown (19-2) moves on to play Horseheads in the opening-round of the Class AA state tournament at 7:30 p.m. on Tuesday at Johnson City High.
Once again, Middletown rolled through an opponent with a balanced scoring attack. Junior center Jonas Parker led the Middies with 18 points, Kyle Brown added 14, Aaron Ray scored 11 and Shabon Burton chipped in with 10. Sophomore Jordan Bryan scored nine, including the two most electrifying baskets of the day. Bryan put down back-to-back open court dunks in the final minute.
The second dunk was a windmill that sent the Middletown fans into a frenzy. For the record, Bryan rated his first dunk and eight and the second a nine or 10.
This is what Bryan and Parker had to say about the Valley Central win:
Of course, Valley Central deserves credit for a great run. The Vikings were playing in their first Section 9 final since 1987 when it lost to Monroe-Woodbury in the Class A championship. Isaiah Boissard led Valley Central with 20 points and Kenny Gray had 14. Expect the Vikings to be a factor next year as they return Gray and forwards Savion Boissard and Brett Jennings. All three will be seniors next year.
Check back for a lot more on the Middletown win on Varsity845.com.